Take Our Free Gut Health Quiz!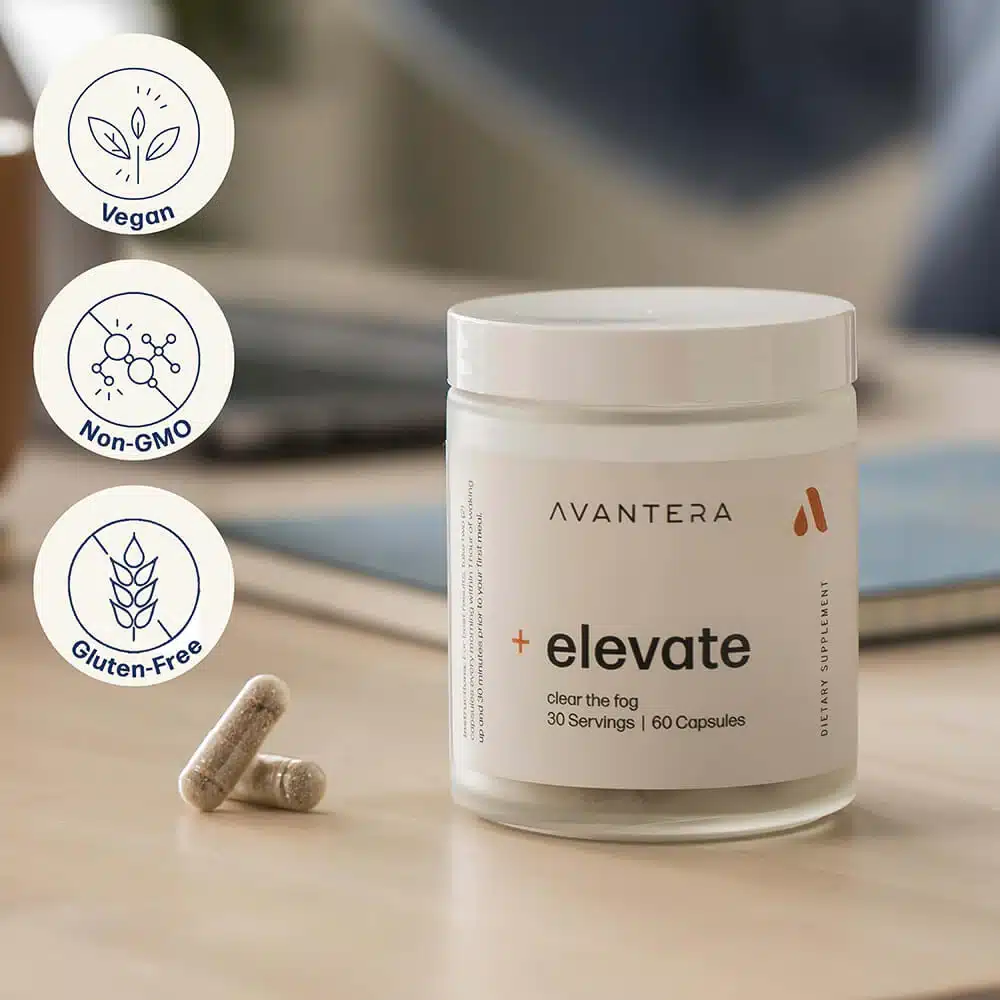 Elevate
Clinically tested ingredients

Improved Energy and Focus

Improved Working Memory

Improved Gut Health

Improved Mood
The following is a Summary compilation of reviews and company information on the product called Elevate by Avantera Nutrition that has been used to improve your health by improving your mood, focus, and energy levels. There is some summarized information about the product as well as the links to the online sites that talk about the supplement in their reviews. Avantera Elevate can be found on the product website as well as Amazon. 
What are Nootropics?
The word nootropic is derived from the Greek for "mind turning." Basically, this means a substance that encourages mental stamina and performance. For those of us who just want to be a little more on our game, there are a wide array of foods, beverages and nutritional supplements that interact with your brain's neurotransmitters so that you'll be at your best. The term "nootropics" first referred to chemicals that met very specific criteria. Now it's used to refer to any natural or synthetic substance that may have a positive impact on mental skills. Nootropic supplements help boost overall cognitive function by promoting better circulation and oxygen within the brain, as well as better uptake of vital nutrients. When your brain gets an optimal intake of blood, oxygen and nutrition, an increase in productivity and output is more likely to occur. While health experts generally agree that taking a prescription nootropic for an FDA-approved purpose, like ADHD or Alzheimer's disease, may be helpful, the use of any type of cognitive enhancer in healthy people is far more debateable.
Who is Avantera?
Avantera Nutrition is a brand dedicated to providing premium supplements that target various aspects of wellness, including energy, focus, mood, heart health, healthy aging, metabolism, and sleep quality. Their main product is Avantera Elevate, a premium nootropic supplement designed to bolster energy, focus, mood, and gut health. The company also offers an adaptogenic supplement called Unwind that helps with sleep, stress, and immunity. They've also developed a premium supplement designed to support healthy aging.
What is Avantera Elevate?
Avantera Elevate is a widely and aggressively marketed nootropic supplement that promises to enhance cognitive function by providing the brain with the nutrients it needs to function properly. It gives your brain a bit of a boost. It should help you to stay more alert and energized, with greater memory, learning ability, and creativity. Below is a list of the ingredients found in Elevate and a little bit about each of them:
– Bacopa Monnieri

– herb that helps improve memory and reduce anxiety [1]

– L-Theanine

– an amino acid that helps promote relaxation [2]

– Lion's mane

– supports nerve growth factor and brain derived neurotrophic factor levels [3]

– Green Tea Extract

– supports healthy blood flow to the brain [4]

– Turmeric

– supports healthy gut function and brain plasticity [5]

– CDP Choline

– precursor to the neurotransmitter acetylcholine

– Black Pepper Extract

– increases the absorption rate for the other ingredients
These ingredients are proposed to work together to provide a range of cognitive benefits, including improved focus, improved mental clarity, improved memory, and increased alertness. 
What are the Claimed Benefits of Avantera Elevate?
Improved Energy and Focus

The supplement may help you become more focused and attentive by providing your brain with the nutrients it needs to function at its best and it can support energy levels without the crash that comes with other energy-boosting products like caffeine.

Improved Working Memory

May help by improving your brain's ability to store and recall information.

Improved Gut Health

May provide your gut with the probiotics and enzymes it needs to function properly.

May Reduce Stress and Anxiety

Some of the ingredients may improve overall brain function, reduce stress and anxiety levels, and help to combat various mental and physical chronic health conditions [6].

Improved Mood

May provide the nutrients your brain needs to produce neurotransmitters like brain derived neurotrophic factor, serotonin, and dopamine.
Avantera Pros
Clinically tested ingredients

Vegan friendly

GMO, dairy, soya, nut, and sugar free

Made in USA 

Affordable for a nootropic supplement
Avantera Cons
Not FDA approved

Uses proprietary blends

Doses of many ingredients may be too low to be effective

May be too costly for some individuals
Avantera's Elevate has received both positive and negative online reviews from independent forums in addition to those found on their company website. The active ingredients in Avantera Elevate have been clinically tested and there is evidence to support them. However, most of the negative reviews stem from an insufficient dosage of the ingredients to be able to elicit the desired and claimed benefits. This may or may not be true and most likely depends on the individual taking the supplement. As with any health supplement there may be sensitivities that can be triggered that can cause GI or other issues so, we recommend that you consult with a doctor or certified nutritionist before consuming. In addition, as with any other type of health supplement it takes time and consistency, and overall results can vary from individual to individual.
Sources
[1] Kumar, N., Abichandani, L. G., et. al. (2016). Efficacy of Standardized Extract of Bacopa monnieri (Bacognize®) on Cognitive Functions of Medical Students: A Six-Week, Randomized Placebo-Controlled Trial. Evidence-based complementary and alternative medicine : eCAM, 2016, 4103423. https://doi.org/10.1155/2016/4103423
[2] Owen, G. N., Parnell, H., De Bruin, E. A., & Rycroft, J. A. (2008). The combined effects of L-theanine and caffeine on cognitive performance and mood. Nutritional neuroscience, 11(4), 193–198. https://doi.org/10.1179/147683008X301513
[3] Lai, P. L., Naidu, M., et. al. (2013). Neurotrophic properties of the Lion's mane medicinal mushroom, Hericium erinaceus (Higher Basidiomycetes) from Malaysia. International journal of medicinal mushrooms, 15(6), 539–554. https://doi.org/10.1615/intjmedmushr.v15.i6.30
[4] University of Basel. (2014, April 7). Green tea extract boosts your brain power, especially the working memory, new research shows. ScienceDaily. Retrieved October 10, 2023 from www.sciencedaily.com/releases/2014/04/140407101545.htm
[5] Sarraf, P., Parohan, M., Javanbakht, M. H., Ranji-Burachaloo, S., & Djalali, M. (2019). Short-term curcumin supplementation enhances serum brain-derived neurotrophic factor in adult men and women: a systematic review and dose-response meta-analysis of randomized controlled trials. Nutrition research (New York, N.Y.), 69, 1–8. https://doi.org/10.1016/j.nutres.2019.05.001
[6] Aguiar, S., & Borowski, T. (2013). Neuropharmacological review of the nootropic herb Bacopa monnieri. Rejuvenation research, 16(4), 313–326. https://doi.org/10.1089/rej.2013.1431
https://www.webmd.com/vitamins-and-supplements/features/nootropics-smart-drugs-overview
https://dbem.org/avantera-elevate-review/
https://www.outlookindia.com/outlook-spotlight/avantera-elevate-reviews-does-this-smart-supplement-work–news-227459
https://centertrt.org/Avantera-Elevate-Reviews.html
https://www.soma-analytics.com/avantera-elevate-review/
https://wholisticresearch.com/avantera-elevate-review/
https://latestfuels.com/reviews/avantera-review/
https://lifehackerguy.com/avantera-elevate-review/
https://www.vagarights.com/avantera-elevate-review/