Take Our Free Gut Health Quiz!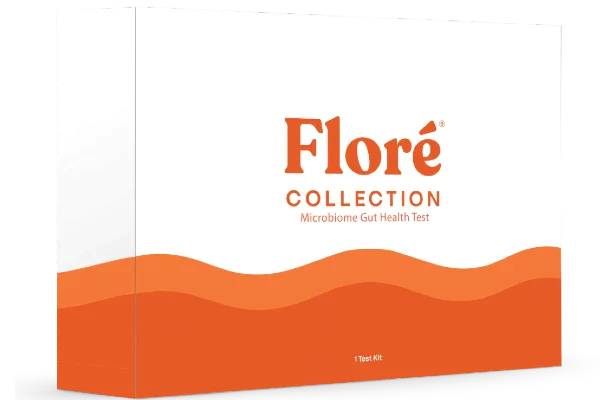 Flore Gut Intelligence Test
At home test

1-3 week turnaround for digital results

Comprehensive report 

Diet and supplement recommendations

Custom guidance with a Flore care scientist
Quick Facts on Flore Gut Test
Offers at-home testing kit and monthly subscriptions

First customized probiotic using whole genome testing of gut microbiome

Dedicated Floré Care Scientist to guide you through your results

Test requires stool samples

Test not FDA-approved
How Does Flore Work?
Step 1 – Order and Activate Your Test: You'll receive your kit through mail. This summary review focuses on the Gut Health Test.
Step 2 – Collect sample: Floré only offers at-home test kits, so you collect the sample yourself. Collect stool for the Gut Health Test.
Step 3 – Send back the samples for lab testing: Floré uses whole genome DNA sequencing technology to analyze your gut microbiome. Once your sample is processed, you'll receive an e-mail to view your gut health report. You'll have access to a personalized dashboard with everything you need to know about your gut health. A dedicated Floré Care Scientist will break down your microbiome report with you and guide you throughout your gut health journey.
Step 4 – Order supplements (optional): Get a subscription service if you want a monthly supply of probiotics, prebiotics, or customized supplements. You can cancel or pause the subscription at any time.  
Summary
The total amount of microorganisms in your body is called your microbiome. It is so important and vital that many scientists have begun to regard it as an organ unto itself. There are subdivisions of your microbiome related to specific body parts or functions, and your gut microbiome may be the most important of the bunch. 
Floré by Sun Genomics is one of a handful of microbiome testing companies to sell tests directly to consumers. The focus of the company provides: 1. Testing to achieve an understanding of your microbiome and 2. Custom-tailored probiotic blend based on your test results.
Floré's gut health tests are designed to demonstrate the make-up of your gut microbiome and to help you determine the best kind of dietary changes and probiotics to use to improve your gut and overall health. They also sell monthly probiotic subscriptions that they recommend to users of their test. The following report is a summary of a number of reviews of experiences with Floré's gut health test.
Test Results
Expect your results to be available within two to four weeks. As soon as it's ready, your personalized gut health report will be available on Floré's website. The results customers receive include several gut health scores, information about the microbes found in the sample, recipes, and diet recommendations. The gut health scores compare the customer's microbiome to what Floré considers a healthy and diverse microbiome. Your results will show what bacteria and other microbes comprise your gut microbiome. You will also receive diet and probiotic recommendations based on your score and your sample analysis. An added benefit of the Floré Gut Health Test results is the inclusion of a dedicated Floré Care Scientist to help break down your microbiome report with you and guide you throughout your gut health journey. 
Floré's diet recommendations have been described as minimal compared to other competitors. To avoid unnecessary restrictions and potential nutrient deficiencies, it is recommended that consumers talk with a doctor or a registered dietitian before eliminating potentially nutritious foods from their diet.
Flore Gut Intelligence Test Pros
Personalized report, diet suggestions, and probiotic recommendations

Personalized consultations with a dedicated Floré Care Scientist

Offers a convenient subscription plan for supplements

Free retesting every 4 months while on the probiotics subscription

Free reformulations offered if the formula is not working for you

User-friendly app

Uses CLIA certified labs

Simple process

Whole Genome Sequencing of bacteria samples

Supplements come in an attractive bamboo container

Easy to follow sample acquisition process

Get results within 2-4 weeks
Flore Gut Intelligence Test Cons
Microbiome science is still somewhat new

Information and reports on the customer's microbiome seem secondary. Very little information available about what's included.

Fairly expensive compared to some competitors

Additional subscription plans can be expensive

Products are not approved by the FDA

Some health claims may be exaggerated
Gut Microbiome Test and Price
The Gut Health Test is Floré's gut microbiome test. The test includes a gut microbiome test kit with instructions on how to self-sample. Completing a gut health test is simple, and Floré includes instructions on how to do it. They also provide a helpful how-to video. You send them a small sample of your stool, and they generate a report about the microbes present in your gut. Once this is complete, you will receive a thorough analysis of the health status of your gut on the Floré mobile app or through their web platform. The test kit and results are engineered to help you determine which foods and probiotic supplements are ideal for your body.
Sun Genomics uses the whole-genome sequencing (WGS) when testing your gut microbiome. WGS enhances the detection of microbes with high accuracy. Unlike 16s RNA analysis, Sun Genomics technology reads, tests and interprets the entire DNA sequence ensuring a more comprehensive product. The gut health test can detect over 23,000 microbes in your gut, including bacteria, fungus, yeast, parasites, and viruses and they can detect these down to the strain level and the relative abundance of each microbe. Information about your microbiome is compared with a reference dataset from the American Gut Project. They claim that their in-house techniques and technologies have been validated by some of the most well-regarded scientific minds of this generation and provide scientific literature and reports to back up the claims. Floré uses this information to generate personalized diet and probiotic recommendations to improve your gut bacteria's diversity and overall health. If you're concerned about any gastrointestinal symptoms or any other health concerns, you should speak to your health care provider.
The Gut Health Test sits at $169 with further discounted pricing often available ranking it in the middle price range of at-home gut microbiome tests compared to the competition. The results they offer are tied into probiotic recommendations and more limited diet recommendations. However, the subscription costs for the probiotic products can be substantial though they do include free microbiome re-testing while on the subscription. Some people have experienced noteworthy differences thanks to those supplements, so it could be worth the additional costs.
More on Flore
The founder of Sun Genomics Sunny Jain started the company in 2016 to advocate for health through personalized science. Frustrated by the one size fits all probiotic supplements available in pharmacies and supermarkets, Sunny created a consumer custom probiotics gut microbiome testing startup that could offer personalized probiotic solutions to consumers. Sun Genomics has launched a number of medical and scientific products. The flagship health product of Sun Genomics Inc. is a consumer product brand called Floré. It focuses on the gut microbiome and personalized probiotic formulas. Sun Genomics claims that it is a first-of-its-kind, customized probiotics startup.
Floré by Sun Genomics is one of several companies in the probiotics market offering personalized probiotic supplements. By sequencing the organisms contained in the customer's submitted stool samples, the company identifies the customer's unique gut microbiome and provides personalized recommendations. Floré distinguishes itself in this market by being one of the only custom probiotic supplements with kids, toddlers, and baby testing and formulations. Your gut microbiome is made up of the microscopic bacteria, fungi, and other living organisms that reside in your large intestine. A healthy gut microbiome is essential for supporting gut health, and overall health.
The company allows customers to mail in a test to analyze their gut microbiome and recommends personalized probiotic blends to meet their specific needs. They own and operate their own laboratories, which are Clinical Laboratory Improvement Amendments (CLIA) certified and have also been certified by the Center for Medicare and Medicaid Services. Sun Genomics uses whole-genome sequencing (WSG) to test and analyze the gut microbiome of their customers to help them optimize their health.
Floré also sells several different types of probiotic blends for adults and children. They recommend specific products to people who have taken their test, based on the results. You can also purchase supplements from Floré without taking their gut health test. With the increasing popularity of probiotics and the consumption of more whole foods, interest in balancing one's gut microbiome has been on the rise. Something to keep in mind, the scientific and medical evidence regarding the microbiome, microbiome testing, and probiotic supplementation may not fully support all of the claims Floré makes about what its tests and probiotic supplements can do.
Brand Reputation and Customer Reviews
Floré by Sun Genomics is accredited by the Better Business Bureau (BBB) and has a business rating of A+ and 1-star customer rating based on 2 reviews. Both reviews had issues with customer service and lack of gut health improvement after taking the probiotics.
The company also has a track record at Trustpilot, where they get a 4.5 out of 5 stars with 175 reviews. Many of the reviews here are very positive about the products and the service received. People who had issues with Flore seemed to have poor customer service experiences.
How Does Flore Protect Your Privacy?
Floré by Sun Genomics uses data-encryption technology and randomization techniques thereby ensuring that you and your data remains secure.