Take Our Free Gut Health Quiz!

Pique Life Gut Health Starter Bundle
Support healthy digestion with tea polyphenols and gut health superfoods
Natural prebiotics support balanced microbiome
Includes both caffeinated and herbal for all day gut support
ZERO preservatives, refined sugar, or additives
USDA organic + triple toxin screened for purity
Pique Life Gut Health Essentials Review
What is Pique Life?
Pique was founded in 2014 by Simon Cheng, who was driven by his own health journey to formulate highly organic tea products. They offer cutting-edge formulations that are engineered to deliver a boost to your health and radiance to your daily routine. Pique uses only the highest quality ingredients sourced from the most biodiverse destinations around the world. By forging deep relationships with multi-generational farmers, tea masters, and traditional doctors and scientists, the team has developed unique, cutting-edge solutions to help you achieve a healthier mind and body.
The teas from Pique Life are prepared in a unique way. The process begins with premium sourced teas that are then brewed at low temperatures for 8 hours, a process that gently yet thoroughly extracts all the antioxidants and phytonutrients from the tea leaves. These nutrients stay completely intact throughout the entire process. Once the tea has brewed, these nutrients are then separated from the water in order to create tea crystals. This unique way of producing tea allows for retention of significant levels of polyphenols and antioxidants – up to 12x more than other teas on the market. Pique teas undergo triple toxin screening for pesticides, heavy metals and toxic mold as well.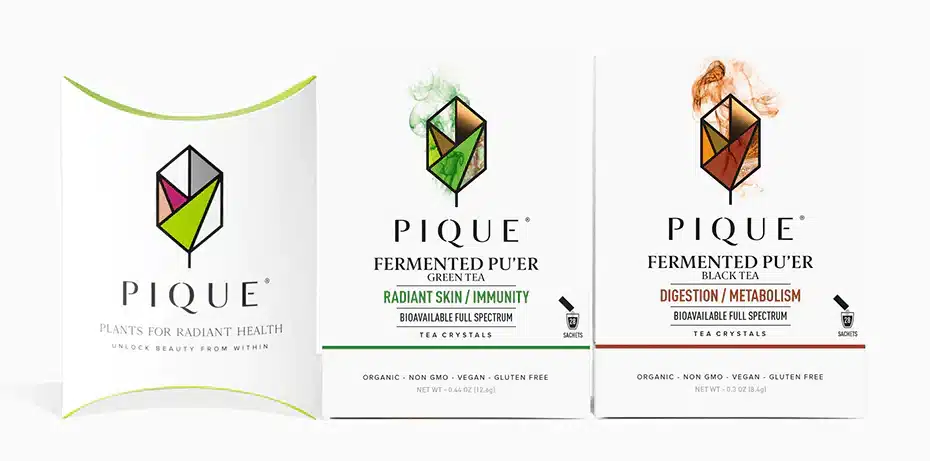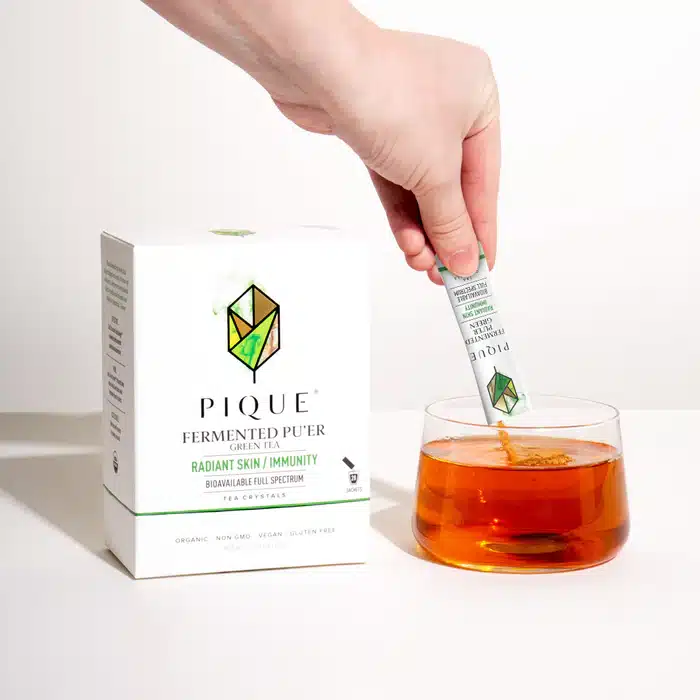 What is Pique Life Gut Health Essentials?
This is a bundled package of 6 teas and elixirs that support gut health. The idea behind this bundle is to nourish a balanced microbiome and support overall gut health with full-spectrum prebiotics. Below I have listed the components included in the Gut Health Essentials along with some of the proposed benefits of each one.
– Breakfast Black Tea

–

Power up and keep things moving with single-estate black teas. The theaflavins found in this tea support regularity.

– Miss Grey Black Tea

–

This tea promotes a smooth, balanced energy with healthy digestion support.

– Jasmine Green Tea

–

Supports healthy digestion and metabolism with catechins from shade-grown Japanese green teas [1].

– Mint Sencha Green Tea

–

Contains rejuvenating antioxidants to help combat environmental stressors and spearmint promotes satiety to curb overeating.

– Hibiscus Beauty Elixir

– Contains vitamin C for radiant skin and mint to calm the nerves. May also provide anti-inflammatory properties [2].

– Ginger Digestion Elixir

– This is a caffeine-free herbal blend featuring gut health superfoods like ginger and mint to soothe the gut and wind down after a heavy meal.
What are the Claimed Benefits of Pique Life Gut Health Essentials?
According to the Pique Life website these are the claimed benefits of the products based on scientific studies:
Supports Regularity

Supports Healthy Digestion

Supports Healthy Metabolism

Supports Calm Energy

Supports Immune Health

Supports Radiant Skin
Pros of Pique Life Gut Health Essentials:
Many delicious Pique tea flavors

Science backed product

Triple screened for toxic compounds

Highly evolved and unique methods of extraction

100% natural products

Targeted products allow for customization

Free shipping offered

30-day money-back guarantee
Cons of Pique Life Gut Health Essentials:
Not FDA approved

A little more expensive than other options

Restrictive refund policy
Overall, Pique Life is an excellent tea brand that offers high-quality, organic teas and elixirs that are available for purchase on their website. Their unique cold-brewing process ensures that each cup has an intense flavor without adding any preservatives or heat. As with any type of health supplement there may be sensitivities that can be triggered that can cause other health issues so, we recommend that you consult with a doctor or certified nutritionist before consuming. In addition, it can take time and consistency for any supplement to show anticipated results, and overall results can vary from individual to individual.
Sources
 [1] Li, A., Wang, J., Zhang, X., Kou, R., Chen, M., Zhang, B., Liu, J., Peng, B., Zhang, Y. and Wang, S. (2022). Cold-Brewed Jasmine Tea Attenuates High-Fat Diet-Induced Obesity and Gut Microbial Dysbiosis. Nutrients, [online] 14(24), p.5359. https://doi:10.3390/nu14245359.
[2] Siti Zaleha Raduan, Aziz, A., Roslida Abd Hamid and Muhammad Lukman Hakim (2013). Anti- inflammatory effects of Hibiscus rosa-sinensis L. and Hibiscus rosa-sinensis var. alba ethanol extracts. [online] ResearchGate. Available at: https://www.researchgate.net/publication/285964700_Anti-_inflammatory_effects_of_Hibiscus_rosa-sinensis_L_and_Hibiscus_rosa-sinensis_var_alba_ethanol_extracts.
https://www.piquelife.com/products/gut-health-essentials-bundle
https://www.healthcanal.com/nutrition/pique-tea-reviews
https://www.fithealthymomma.com/pique-tea-worth-it/
https://www.holistichealthherbalist.com/pique-tea-review/
https://www.breakfastcriminals.com/pique-tea-review-radiant-health-in-a-cup/
https://www.honestbrandreviews.com/reviews/pique-tea-review/