Take Our Free Gut Health Quiz!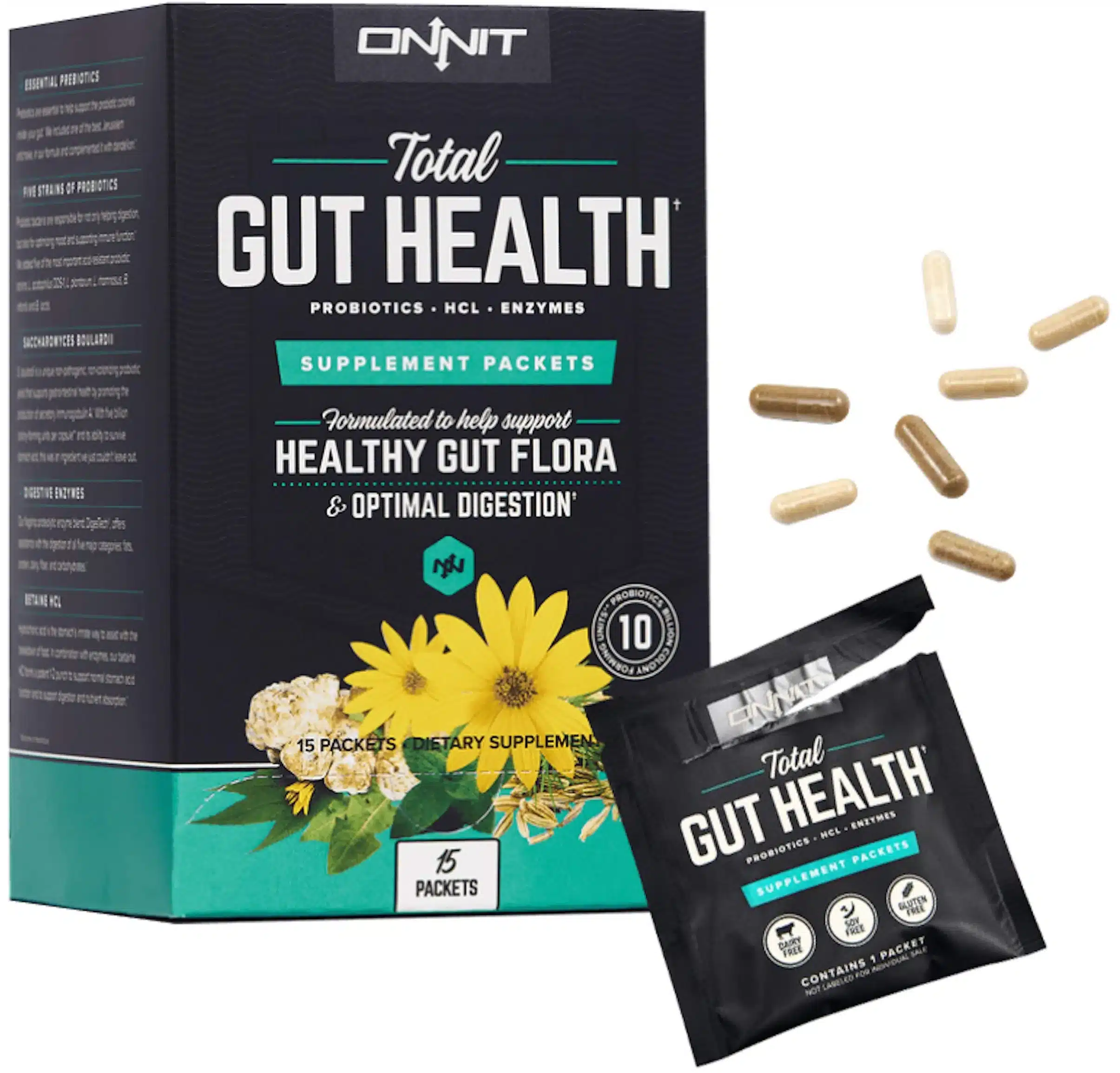 Onnit Total Gut Health
Can help break down food

Helps promote healthy gut flora

Can help your body absorb nutrients

Support digestion of macronutrients

Boosts Immunity
Who is Onnit?
Onnit is one of the most popular supplement companies on the market, and Total Gut Health is one of the brand's best-sellers. Onnit was founded in 2010 by Aubery Marcus, a fitness enthusiast, author, and marketing executive. The company has a full fledged passion for health and well-being, focusing on physical performance, mental performance, and emotional well-being. In addition to Total Gut Health, Onnit's other best-seller list features products that include Alpha Brain, New Mood, and Shroom Tech. The products supplied by Onnit can be purchased directly from the company website and most are also available on Amazon.
What is Total Gut Health? 
Total Gut Health is a product that will help you protect yourself against multiple digestion problems. It is perfect for those on-the-go. You can easily toss a few packets into your bag before you head out for the day. Within one packet of Total Gut Health, there are seven capsules per serving containing a variety of ingredients that carry out five different functions to benefit the consumer. Although there are proprietary blends within these capsules, most of the units and amounts of ingredients within this formula are disclosed.
A major issue that many supplement blends have is that the dosing of each ingredient is not sufficient to bring about the desired benefits. However, the ingredients in Total Gut Health that do have standard recommended doses in the capsules actually do seem to be sufficiently dosed. Therefore, they may provide the benefits associated with them. Below is a listing of the ingredients found in Total Gut Health.
Digestive Enzymes

: DIGESTech® is a proprietary blend of digestive enzymes. Its primary ingredients are amylase, protease, and lipase along with lesser amounts of many others [1].

Probiotics

: This is another proprietary blend and contains five probiotics [2]: 
Lactobacillus acidophilus DDS-1
Prebiotics

: The packet includes these prebiotics [3]:

    Organic Jerusalem artichoke

    Organic dandelion root

Betaine HCL

: Stimulates the production of hydrochloric acid, an essential component of gastric juices [4].

Healthy Yeasts:

 S. boulardii is an acid-resistant yeast. It can make its way to your gut without getting damaged in the stomach [5].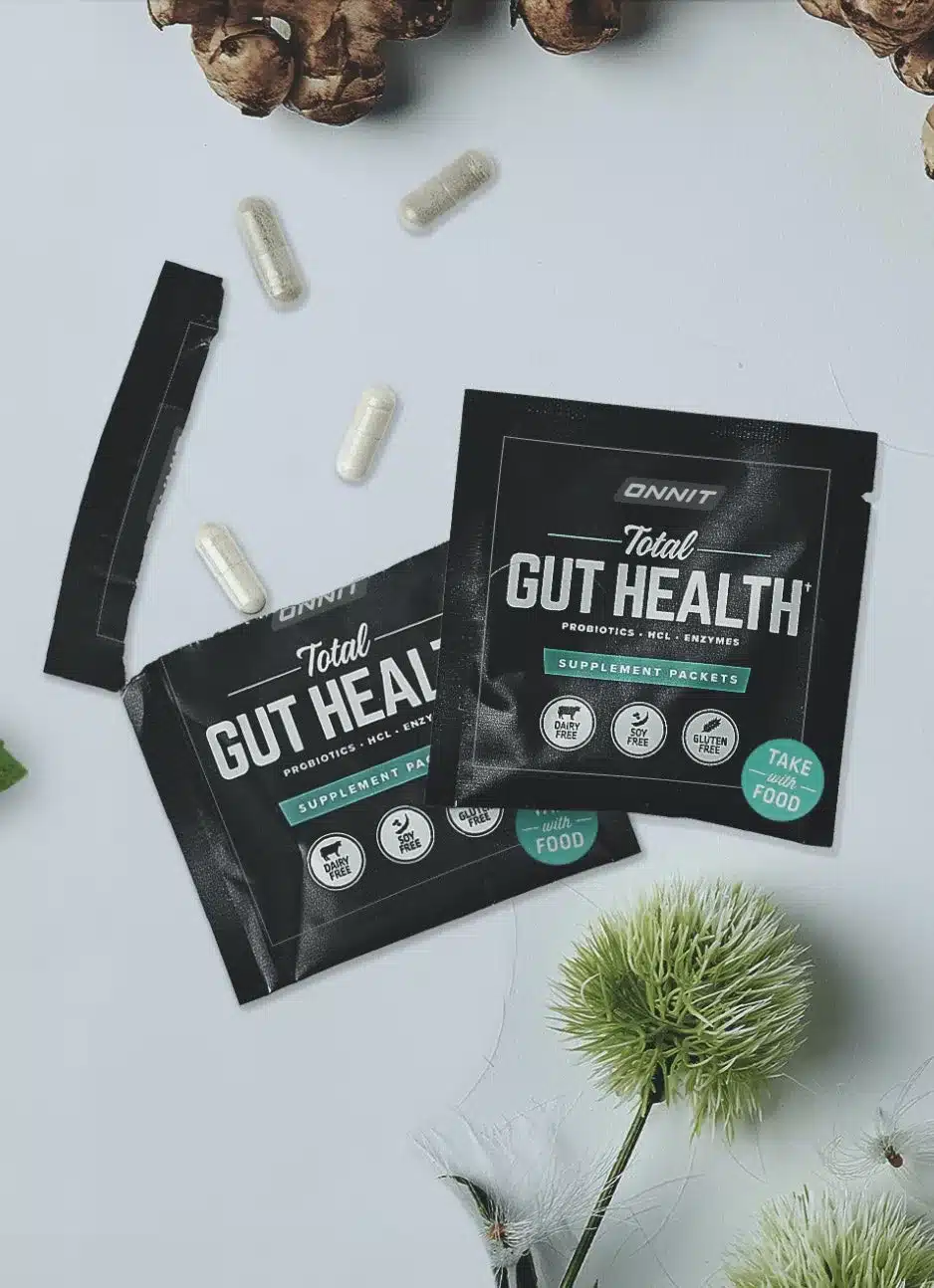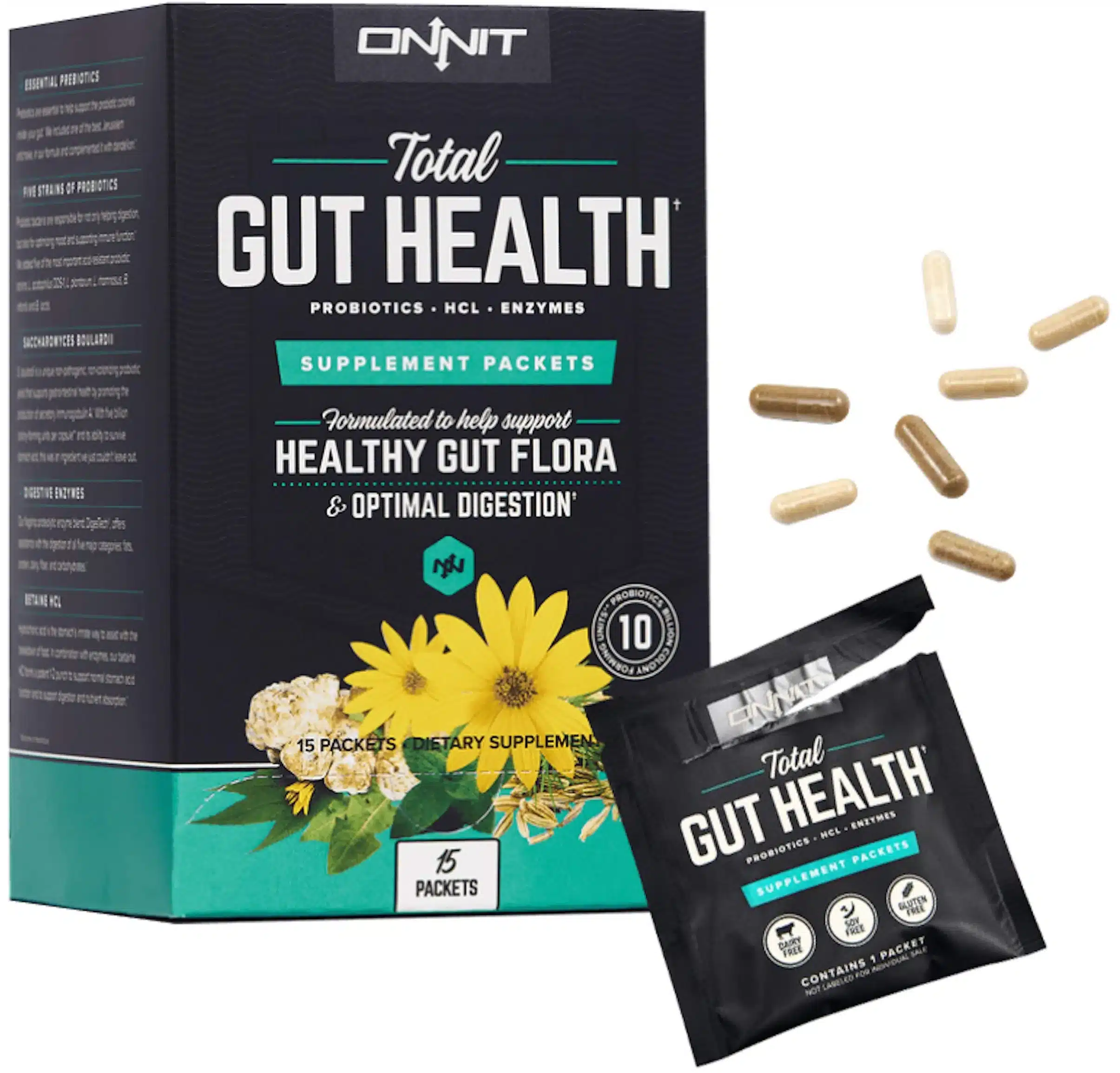 What are the Claimed Benefits of Total Gut Health?
– Can help break down food
– Helps promote healthy gut flora
– Can help your body absorb nutrients
– Support digestion of macronutrients
– Boosts Immunity
Total Gut Health Pros
Uses clinically supported ingredients

Promotes healthy digestion and gut balance

Tasteless and easy to consume

Gluten Free, Dairy free, Vegan, and Keto-friendly

30-day refund policy

Subscription discounts
Total Gut Health Cons
Not FDA approved

Seven capsules need to be consumed per serving

Side effects are not indicated

May be too pricey for some people
Final Thoughts
Total Gut Health has received many positive reviews through independent forums and individual customer reviews. As with any type of health supplement there may be sensitivities that can be triggered that can cause other health issues so, we recommend that you consult with a doctor or certified nutritionist before consuming. In addition, it can take time and consistency for any supplement to show anticipated results, and overall results can vary from individual to individual.
Sources
[1] Majeed, M., Majeed, S., Nagabhushanam, K., Arumugam, S., Pande, A., Paschapur, M., & Ali, F. (2018). Evaluation of the Safety and Efficacy of a Multienzyme Complex in Patients with Functional Dyspepsia: A Randomized, Double-Blind, Placebo-Controlled Study. Journal of medicinal food, 21(11), 1120–1128. https://doi.org/10.1089/jmf.2017.4172
[2] Shi, L. H., Balakrishnan, K., Thiagarajah, K., Mohd Ismail, N. I., & Yin, O. S. (2016). Beneficial Properties of Probiotics. Tropical life sciences research, 27(2), 73–90. https://doi.org/10.21315/tlsr2016.27.2.6
[3] Sasaki, H., Lyu, Y., Nakayama, Y., Nakamura, F., Watanabe, A., Miyakawa, H., Nakao, Y., & Shibata, S. (2020). Combinatorial Effects of Soluble, Insoluble, and Organic Extracts from Jerusalem Artichokes on Gut Microbiota in Mice. Microorganisms, 8(6), 954. https://doi.org/10.3390/microorganisms8060954
[4] Yago, M. R., Frymoyer, A., Benet, L. Z., Smelick, G. S., Frassetto, L. A., Ding, X., Dean, B., Salphati, L., Budha, N., Jin, J. Y., Dresser, M. J., & Ware, J. A. (2014). The use of betaine HCl to enhance dasatinib absorption in healthy volunteers with rabeprazole-induced hypochlorhydria. The AAPS journal, 16(6), 1358–1365. https://doi.org/10.1208/s12248-014-9673-9
[5] https://www.rxlist.com/supplements/saccharomyces_boulardii.htm
https://www.iherb.com/r/onnit-total-gut-health-supplement-packets-15-packets/84064?lang=en-us&sort=6&isshowtranslated=true
https://thenutritioninsider.com/wellness/onnit-gut-health-review/
https://www.dontwasteyourmoney.com/products/onnit-total-gut-health-supplement/
https://knowyourdna.com/onnit-review/
https://www.gowellnessco.com/onnit-total-gut-health-review/