Take Our Free Gut Health Quiz!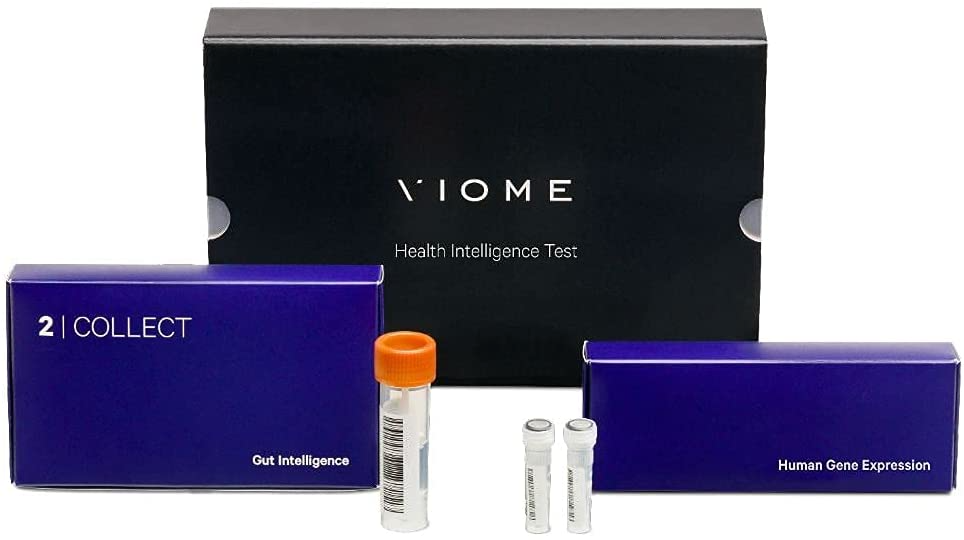 Viome Gut Intelligence Test
At home test

High-level functional report with 20+ supporting scores

Food and diet recommendations

Personalized pre- & probiotic recommendations

2-3 week turnaround for digital results
Quick Facts on Viome Gut Test
Offers at-home testing kit and monthly subscriptions

Uses mRNA technology to identify gut microbes

Uses artificial intelligence (AI) to interpret findings and provide recommendations

Test requires stool samples

Test not FDA-approved
How Does Viome Work?
Step 1 – Order a test kit: Start by choosing one of Viome's four products. You'll receive your kit through mail. This summary review focuses on the Gut Intelligence Test.
Step 2 – Collect sample: Viome only offers at-home test kits, so you collect the sample yourself. Collect stool for the Gut Intelligence™ test.
Step 3 – Send back the samples for lab testing: Viome uses an RNA technology called "metatranscriptomic sequencing" to analyze gut microbes. It will use AI to interpret findings and develop your food and supplement recommendations. 
Order supplements (optional): Get a subscription service if you want a monthly supply of probiotics, prebiotics, or customized supplements. You can cancel or pause the subscription at any time.  
Summary
The total amount of microorganisms in your body is called your microbiome. It is so important and vital that many scientists have begun to regard it as an organ unto itself. There are subdivisions of your microbiome related to specific body parts or functions, and your gut microbiome may be the most important of the bunch. 
Viome is one of the original and most respected microbiome testing companies to sell tests directly to consumers. The dual focus of the company provides: 1. Testing to achieve a comprehensive understanding of your microbiome and 2. Personalized supplements to help optimize its performance.
Do Viome's tests live up to the hype and more importantly, should you invest in one of their tests? Many groups and individuals have tested their products, researched their approaches, and even visited their lab to learn more about their methodology and provide you with the best info to help you decide. The following report is a summary of a number of those reviews.
Test Results
Expect your results to be available within two to three weeks. You can access your health scores (depending on the type of test) on Viome's website or app. The documentation you receive is comprehensive and easy to follow. Your results will show what microbes were found in your gut microbiome and will include numerical scores in categories such as metabolic fitness and digestive efficiency. You will also receive diet and lifestyle recommendations based on your score and your sample analysis.
Additionally, the test results will include a personalized list of foods you should avoid and foods you should eat that are particularly good for your current microbial composition These conclusions are based on an analysis of the bacteria, fungi, mold, and other microbes found in your gut. The foods to avoid may be based on whether your microbiome can properly process those foods or whether you're unable to absorb their nutrients. Viome doesn't simply list foods and substances to add to your diet or avoid. They give you deeper information about why these recommendations make sense specifically for you, based on your test results. You'll get to explore the clinical studies that underpin Viome's recommendations, if you want to dig deeper.
The results of Viome's analysis may not give you a complete picture of your overall health since they are based primarily on gene and microbiome analysis, and the microbiome is only one part of a very complex digestive system. Therefore, to avoid unnecessary restrictions and potential nutrient deficiencies, it is recommended that consumers talk with a doctor or a registered dietitian before eliminating potentially nutritious foods from their diet.
Viome Gut Intelligence Test Pros
Identifies most microorganisms in your gut

Tests use RNA sequencing as opposed to DNA

Personalized reports, diet suggestions, prebiotic and probiotic regimen

Subscriptions include no-cost retesting

Free updates as Viome's science and machine learning improve

User-friendly app

Features continuously advancing research

Explores how your gut microbiome influences your digestive health

Leaders in gut microbiome testing

Nationally-accredited CLIA lab

Get results within 3-4 weeks
Viome Gut Intelligence Test Cons
Not available to residents of New York state

Microbiome science is still somewhat new

Stool sample collection may be uncomfortable for some

Presents vague language around its sampling process and lab analysis

Offers broad health claims that research cannot back up

Can present some unreliable current research with conflicts of interest

Additional subscription plans can be expensive

Test results can use scientific jargon that isn't easy to understand

Non-FDA-approved tests

Recommendations are sorted and selected by Viome's AI rather than a human

Doesn't have its own database for comparison
Gut Microbiome Test and Price
The Gut Intelligence Test is Viome's base gut health test, focusing solely on the gut microbiome and digestive health. In most reviews from 2021 and 2022, this at-home gut microbiome overall testing experience rates the best compared to similar tests on the market. It analyzes a stool sample to compute an overall "Integrative Functional Health score" and more than 20 subscores for markers such as gas production, inflammatory activity, metabolic fitness, and digestive efficiency. Based on these scores, you'll receive food and supplement recommendations for the next 4–6 months to help you optimize digestion, food absorption, and gut flora diversity.
Viome's microbiome examination is more thorough than those that some competitors offer. You'll often find a microbiome test that only looks at bacterial populations, ignoring other microorganisms whose presence plays a vital role in overall gut health. Viome's test looks at bacteria, viruses, yeast and other fungi, as well as other Archea (single-celled organisms) and Eukaryotes (nucleated cells).
The Gut Intelligence Test sits at $249 with discounted pricing often available making it comparable to a lot of the competition. The results they offer and their ability to turn those into personalized probiotic, prebiotic, and supplement regimens are considered by some to be a significant improvement over other gut microbiome test offerings. However, the subscription costs for those products and additional tests to keep track of your progress can be substantial. Some people have experienced noteworthy differences thanks to those supplements, so it could be worth the additional costs.
More on Viome
Founded in 2016, Viome is a nutritional genomics company that aims to empower people with wellness advice based on the composition of their microbiomes and their cellular and mitochondrial health. They offer at-home microbiome testing kits for people who want to learn more about their gut health. Using a platform powered by artificial intelligence (AI), Viome has a variety of testing options that involve the collection of blood, stool, and saliva samples from users to analyze their microbiome (gut bacteria) and human gene expression (proteins that dictate cell function). The company then provides diet and lifestyle recommendations to help improve gut conditions and overall health. In some cases, they offer subscription options for those who wish to incorporate personalized prebiotics, probiotics, and supplements into their routines based on their results. You can use Viome strictly to test and learn or opt for ongoing subscription services, including follow-up tests.
With the increasing popularity of probiotics and the consumption of more whole foods, interest in balancing one's gut microbiome has been on the rise. Something to keep in mind, the scientific and medical evidence regarding the microbiome, microbiome testing, and probiotic supplementation may not fully support all of the claims Viome makes about what its tests and probiotic supplements can do.
Brand Reputation and Customer Reviews
Viome does not have accreditation with the Better Business Bureau and has an A rating on the review platform. However, the company scored 1.35 out of 5 stars from 63 customer reviews. It resolved 49 complaints over the last three years, 20 of those in just the 12 months before the writing of this article.
On Trustpilot, there are over 1000 reviews for Viome, which give an average rating of 3 out of 5 stars. Positive user reviews reported improvements in conditions such as irritable bowel syndrome (IBS) and chronic obstructive pulmonary disease. In contrast, most negative reviews mentioned delayed test results, difficulty getting refunds, customer service issues, and problems with registration.
How Does Viome Protect Your Privacy?
Viome is upfront about its data policies. They commit not to sell any of your data and ensure that it contains nothing that could be traced back to you. They offer you the option to have your data and samples used to further their research, but they won't do anything of the kind without your explicit consent.